(一) 總館長序文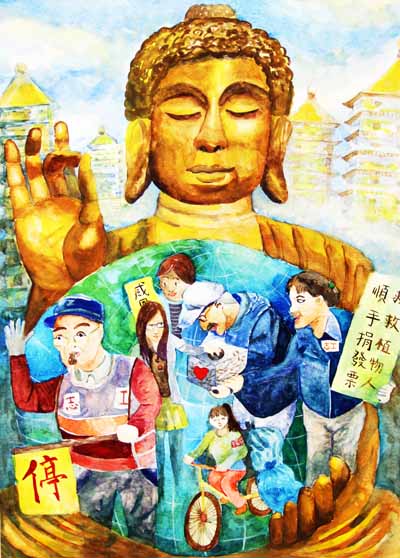 畫出心中的真善美
佛光緣美術館總館長 / 如常

 要如何行三好「說好話、做好事、存好心」?有人如是問,我也深思過,尤其是對兒童,要怎麼樣讓他們明白,並落實在生活中。為此,2004年佛光緣美術館舉辦第一屆的「國際佛光緣小藝術家獎」徵畫活動,至今已逾十年。活動以星雲大師所提倡的三好運動為理念,鼓勵兒童觀察周遭所發生的人、事、物,進而喚起他們敏銳的感受力,激發豐富的想像與創作潛能,並培養美感與判斷能力。

 讓孩子畫出心中的三好,像不像不重要,目的是幫孩子發現生活中的真、善、美;也是讓孩子多個表達自己、發洩情緒的管道。當父母的也必須重拾童心,放下審視的眼光,傾聽作品裡的故事。

 記得有一次,在「畫不像的畫像」兒童巡迴美展,看到一位小朋正在解說他的一幅畫,旁邊一位先生很專心的凝聽,還頻頻點頭表示認同,最後這位先生彎下腰,摸著這位小朋友的頭說:「謝謝你教我們這麼多關於環保的知識。」小朋友說:「媽媽說做好垃圾分類,就是做好事。」旁邊一位老伯伯對著那位先生說:「你的讚美給小朋友信心,是說好話、存好心。」聽著他們的對話,心裡好生感動。

 國際佛光緣小藝術家獎今年已邁入第11屆,主題是「全民三好.世界繪美」。此次徵畫作品來自臺灣、香港、中國、菲律賓、新加坡、馬來西亞、美國、紐西蘭、法國、英國等地區,從國中到幼兒分為五組,收件共計6772件,初審通過有3668件,獲獎的有344件。

 所有得獎作品我們已編畫冊,為這一切的美好留下紀錄,並舉辦世界巡迴展,將這一切的美好散播到每個地方!
Drawing the Inner Truth, Virtue, and Beauty
Fo Guang Yuan Art Gallery Headquarters Curator / Shih Ru Chang
 Particularly for children, when asked how to practice the three acts of goodness - "Do Good Deeds, Say Good Words, Think Good Thoughts,"I have pondered how to get them to understand these acts and to implement them in their lives?
 Seeking an answer since 2004, Fo Guang Yuan Art Gallery has now held the International Fo Guang Yuan Young Artist Award program for more than a decade. The program is based on the "Three Acts of Goodness"promoted by Venerable Master Hsing Yun, encouraging children to observe what is happening around them, evoking their keen sensation, stimulating abundant imagination and creative potential, and then developing their beauty and judgment.
 The purpose of our program is to teach children to draw their inner Three Acts of Goodness. The aim is for them to discover the life of truth, virtue and beauty. Whatever they portray and however it looks are not important. The program helps children to express themselves and find a way to release their emotions. Like being a parent, one must regain their childlike innocence, look at the drawing uncritically, and listen to the child's story of what it portrays.
 I recall a Children's Art Exhibition Tour, called "Unlike Portrait". There was a gentleman listening attentively and nodding approvingly while a little child explained his painting. At the end, the gentleman bent down and touched the kid's head saying: "Thank you for teaching us so much about environmental protection." The child replied: "My mom said doing a good job with recycling garbage is doing good deeds." An old man next to the gentleman said: "Your compliment gave confidence to the child to say good words and think good thoughts." Listening to their conversation I was deeply moved.
 This year, the International Fo Guang Yuan Young Artist Award program is currently in its eleventh year with the theme being "Three Acts of Goodness." The program received 6772 entries from Taiwan, Hong Kong, China, Philippines, Singapore, Malaysia, USA, New Zealand, France, Britain and other regions, and fall into five groups: those from children around age 5-6 years old and from those in grades 1-2 up to 8-10. There were a total of 3668 entries after the initial screening, with a total of 344 awards being presented.
 This album has been published displaying all the winning entries in order to leave behind a wonderful record, and expand the international touring exhibition in spreading the goodness in every place.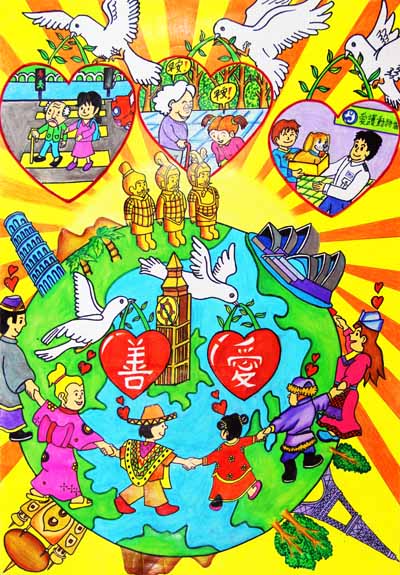 ■心靈淨美 ‧ 歡喜人間 
中華民國兒童美術教育學會理事長 / 吳隆榮

 遼闊多彩的人生,不僅美麗動人,更因為美好良善的心靈,激發出人類內心深處利人利己的動能,特別是我們身處資訊科技的便捷時代,一日千里,無遠弗屆,人與人之間,更產生有難以分割的緊密互動,此時,美善的內心宛如我們的母親,哺育著靈魂,天地之心,觸動著至真、至善、至美的永恆,這顆純淨的心靈,使我們得以綿延無盡,生生不息,面對生命,教我們怎能不歌詠讚嘆!
 佛光緣美術館舉辦國際小藝術家獎活動,今年已屆第十一年了,「全民三好˙世界繪美」是2016的徵畫主題,主辦單位本著星雲大師所提倡「給人信心、給人歡喜、給人希望、給人方便」的四給理念,期許兒童們能明瞭,若全民能夠在「做好事、說好話、存好心」的三好社會氛圍下,生活則呈現祥和美好的世界。藉著藝術創作,以「三好、四給」的美好心靈,讓創作主題在彩筆的揮灑下,放光發熱。
 本次徵畫比賽,以國中、國小高、中、低年級,幼兒含國內外共五組,由五位專業美學評審進行評選。國內外總收件為6772件,通過初審有3668件,最後五組共決選出344名獲獎。在繁複的評選過程中,我們五位評審力求客觀、公正,面對熱切參與徵畫的每一幅作品時,我深切的感受到參賽者因用心感受三好、四給的主題,將想法和感情內化成圖像的心得,透過彩筆,淋漓盡致的抒發,使得畫面呈現多元而豐沛的內容,特別是多位參賽者極富縝密的觀察力、想像力及創造力,真誠的表露內心對主題的嚮往,讓觀者心有戚戚焉,萌發相當大的共鳴感,頗為珍貴,這也是主辦單位對本活動冀望之所在。
 大千世界,婆娑曼妙。天地運行,歡喜希望。凡心存莊重慈悲者,皆能顯現觀自在菩薩法像,照臨人間。來自海內外有緣人,不論是參賽者或觀賞者,只要心中謹記三好、四給的善知善念,蘊於彩筆之間,必然呈現「全民三好˙世界繪美」寬厚仁慈的動人畫面,以此動能所構圖的技法與巧思的創意,自有真摯感人之處。在此謹向得獎優勝者致賀,同時更鼓勵所有參賽的學童們,精益求精,更上層樓。期盼下一屆能有更多熱愛藝術的學童朋友,一起加入國際佛光緣小藝術家這個深富意涵的徵畫藝術創作活動,以「三好」美德來淨化心靈的彩繪,傳達人世間美好的良善。
■The Heart's Purely Beautiful. The World's Delightfully Joyous.
 An unlimited and colorful life is not only beautiful, but because of the nice and kind heart, it also inspires people to be altruistic and yet kind to themselves. Especially now when we live in such a convenient world of high technology, the world advances at a tremendous pace, and the technology can take us everywhere; people's interaction with each other is closer than ever. So at this moment, the beautiful and kind heart is like our mother, it nurtures the soul; the heart of heaven and earth touches the eternity of pure truth, pure kindness, and pure beauty. It is this pure heart that carries us to the end of time and back. So how can we not celebrate life?
 This is the 11th year that the Fo Guang Yuan Art Gallery holds the Young Artist Award Competition. The theme of 2016 is "Three Goodness for Everyone and the World Will Be Beautiful". The Organizer promotes Venerable Master Hsing Yun's ideal of Four Giving – give people confidence, give people joy, give people hope, and give people convenience, in hopes that children can understand. If all people can live in a harmonious society of the Three Goodness – do good things, say good words, think good thoughts, the world will be peaceful and beautiful. We expect children to understand that if all people live in the atmosphere of the Three Goodness – doing good things, saying good words, thinking good thoughts- live will be harmonious and beautiful. By artistic creation, the beautiful minds of "Three Goodness and Four Giving" shine brightly with each stroke of the coloring pens.
 This competition consists of five categories: junior high school, higher, middle and lower grades of elementary school, and kindergarten. Five esthetics reviewers are responsible to elect the winning pieces. We received a total number of 6772 entries, and 3668 passed the preliminary selection, and 344 were elected winners through all five categories. In the rigorous selection process, the five reviewers did their best to be objective and just. When facing each earnest artwork, I deeply felt the contestants' understanding of the Three Goodness and Four Giving. They put their thoughts and emotions into mind pictures, and transformed them onto the paper without any reservation. They made the pictures full of variety and richness; especially many contestants had such great sense of observation, imagination and creativity, and their sincere expression of the yearning greatly inspired the viewers to resonate. This feeling is so precious, and is what we have hoped for.
 The great world is wonderful. The movement of heaven and earth is full of hope. When people are dignified and merciful, the world perceives them as Avalokitesvaras who illuminate the world. People of domestic or international origins, be they contestants or viewers, when they bear the kindness of Three Goodness and Four Giving in mind, everything they touch will turn into touching pictures of "Three Goodness for Everyone and the World Will Be Beautiful". With this kindness, the artists employed very impressive technique and creativity. I hereby congratulate the winners, and encourage all participants to strive for perfection, and to always endeavor to do better. I hope next year, there will be more children who are passionate about art taking part in this meaningful event, spreading the colors of the Three Goodness, and passing on the kindness of the world.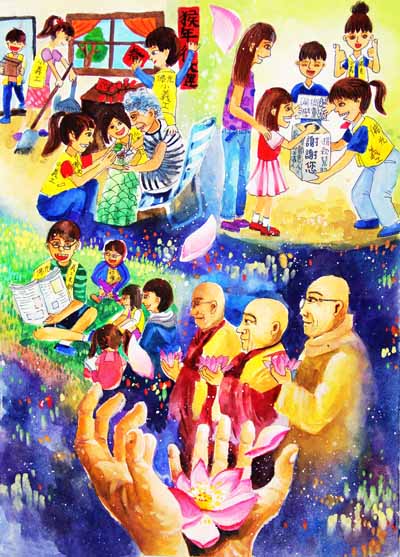 ■

佛光緣
高雄市厚澤美術研究會創會榮譽會長 / 顏雍宗

 有幸與佛光山結緣是因數年前,我生了一場大病,在家靜養中,有一天一大早,有位法師與兩位年輕信眾來按門鈴。見面時才知道這位法師即稱「妙仲法師」,但不知為何登門?法師提著兩杯所謂的「臘八粥」來慰問。腦海裡在想:法師為何知道我生病之事,無緣無故的來慰問?就如此與佛光山結了緣。


 佛光緣美術館高雄館開幕首館,被邀請作品參展。佛光山佛陀紀念館開館,也被邀參加「百化齊芳 ─ 百位畫家畫佛館」活動,即此,我開始參加佛光山或佛光緣美術館盛會。承蒙佛光山妙仲法師的推薦,應邀參與第十一屆國際佛光緣小藝術家獎2016「全民三好.世界繪美」兒童徵畫活動決審工作,佛光山寺對文化的重視與提昇,非常重視。每年均有舉辦此徵畫比賽,此次本人應邀參加評審,甚感榮耀。
 本屆徵畫參展作品近七千件,國內作品較豐富,表示我們對兒童的美術教育繪畫創作較重視指導,國外作品較自由活潑發揮。兒童繪畫的指導,並非想教育他成為一個「小畫家」。指導兒童繪畫教師需要了解兒童各年齡的心理。每位小朋友出生的家庭背景,生活環境各有差異,皆會在其作品中表現出來。因此兒童畫的指導老師需誘導他們,啟發他們的想像力,並激發他們的創作力。簡單的說:兒童繪畫創作,是種頭腦體操,主題要明確突顯,要有豐富的內容的詮釋,畫面的佈局不可零亂,線條、色彩、安排大膽、自然、流暢,這才能獲得精心妙品的佳作。
 此次的幼兒組作品較有趣味性,天真、活潑、可愛,風趣中帶有種抽象的美。而隨著年齡的增長。中年級以上就慢慢想要畫出較具體的事物,然而可能擔心畫不好,似乎表現不如幼兒組的作品。但我發現中高年級以上的作品甚有潛力,尤其朝向設計味道較多,細膩寫實,將來應該會再創作有些表現。樂觀此次的各類作品均具水準。
感謝佛光緣美術館總部的邀請參與這次的評審工作,決審一整天,獲益良多,更讓我回想起二十多年前為兒童美術教育的工作,再次獲得那份心靈上的慰藉,感謝,雙手合十。
■

Buddha's Light Affinity with Fo Guang Yuan
Founding Honorary President, Kaohsiung Houze Art Society / Yan, Yong Zong
 I had the opportunity to develop a special affinity with Fo Guang Shan Monastery a few years ago. I was sick at the time, and a venerable with two young devotees came ringing the front of my house in the early morning. I learned her Dharma name was Venerable Miao Zhong, who brought two cups of Laba rice porridge to express their sympathy for me. I do not know the purpose of their visit and wondered how they knew I was ill. There seemed no reason for visiting, but since that time I started to get attached with Fo Guang Shan.
 My first exhibition at Fo Guang Yuan Art Gallery was the grand opening of the first gallery's branch at Kaohsiung, and later I was invited to the opening of the Buddha Memorial Center "Exhibition of 100 Artists Illustrating the Buddha Memorial Center". Thereafter I began to attend events of Fo Guang Shan and its Fo Guang Yuan Art Gallery. I would like to express my deepest gratitude to Venerable Miao Zhong, who invited me to be a judge and to participate in the "Three Acts of Goodness" drawing competition of the 2016 Eleventh International Fo Guang Yuan Young Artist Award program. Fo Guang Shan has paid close attention to the cultural importance and promotion of this annual drawing competition, and I had the honor of being asked to judge the competition.
 There were nearly seven thousand entries submitted this year. The domestic entries display the guided creation emphasized in our country during children's art education; the entries from overseas regions display more free and lively creation. I feel guided art education of children's painting is not to teach them how to become young artists. None-the-less, the different living conditions and family backgrounds of each child artist can be seen in their works. Teachers need to understand the psychology of children of all ages, and to inspire their imagination and creativity. Generally speaking, Children's creation is a mental exercise to their brain, and the theme needs to be clear. To create an excellent entry requires elements such as the abundant interpretation of the content, the arrangement of the painting without mess, and feelings of adventure, with natural and flowing lines and colors.
 The children's paintings at age 5-6 years have a great amount of fun, innocence, and an adorable sense of the humor with abstract beauty. As the age of the entrants increase, grade 3-4 were slowly getting to paint specific objects, yet they worry they don't paint well. As if their performance seems not as good as the age 5-6 group. But I found the grades 8-10 entries to have great potential, particularly towards the design style and the delicate realism. My optimism for the young artists of this competition comes from the high standard of the various entries.
 I appreciated the invitation to be a judge from Fo Guang Yuan Art Gallery Headquarters. I learnt many lessons from this competition after the long day of evaluation. These helped me recall the time of my own art education two decades ago, and to take refuge in my mind again. Many thanks to everyone with palms joined.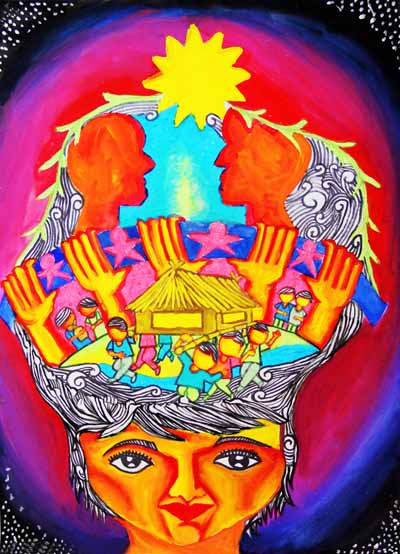 ■

行三好 世界繪美
台灣中部美術常務理事 / 陳佑端

 首次參與佛光緣美術館策畫主辦的「行三好,世界繪美」兒童徵畫比賽的決選工作,來自國內外6772件的作品中,經初審、複審後、挑選15%的作品為入選以上的得獎獎項。感受主辦單位的用心與服務熱忱。感佩之餘,針對本次評審過程所見聊記數言,以殊感懷。
 依據參賽者的年齡分組評審。由於參加作品來自國內外地區,雖有國情與城鄉差異,但在主題的框架下,仍能自由發揮,表現出各級學童對於「存好心、說好話、做好事」的不同感受,透過具體的情境,畫出作品。得獎作品非常客觀的分散在各地區,這是很難得的情況!僅依年齡分組說明於下:
(一)幼兒的心理發展剛脫離塗鴉期,屬於童稚感性的表現。畫面內容是「畫其所思,非所見」,應該是展開式、旋轉式,沒有計劃的平面式構圖。在評審過程中也發現,不少作品是親子,或是親師共同合作。顯現出過度干預的痕跡,就活動的終極目的,「行三好」仍有其成效。由美術教育的面相來說,則屬於破壞兒童獨立思考與天真活潑的缺失。因此獲獎作品必須具備獨立創作,含天真活潑童趣的作品。
(二)低年級組的兒童多數仍在感性的創作模式中,理性的發展已經萌芽。因此參賽作品中,也大多能把握主題,畫出較具體的畫面。只是畫面的空白不若幼兒組保留的多,大多用底色填得滿滿的,最後得獎作品仍然保有童趣,自主創作的優秀作品。
(三)中年級組作品表達方式多為理性與視覺觀察型。雖仍有少數保留感性表現,但在畫面的安排,已有計劃性,透過色彩與主題的強調作品之完整度。此階段的作品對於相對抽象的「存好心、說好話」較少表現,絕大部份作品是能具體描寫的「做好事」為主。
(四)高年級組幾乎脫離了感性表現期,所有作品都以理性思考設計,寫實表現的風格為主。也有很多作品結合海報設計的觀念,反而能對「存好心、說好話」抽象的主題有所發揮。優勝作品在內容的突顯,畫面配置與色彩的運用表現得很完美,很有水準。
(五)國中組參賽人數一直都是美術比賽的少數,不但因「眼高手低」創作發展期的落差,也因為整個學校教育的課程編排,時間分配的影響,美術教育在此階段出現了大斷層。
(六)國際組的作品,在一般的美術比賽甚少出現。由於參加者來自全球各地,存在著地域與生活環境的差異,在作品的表達上反映出不同的面相。而獲獎的作品都能在生活體驗的省思中,做出符合自由創作,活潑純真,畫面效果協調而完整的創作作品,殊為可貴!
 本次的參賽作品水準,仍然屬於優質表現,在描繪能力與色彩表現均很成熟,也能適度的使用三度空間的觀念來表現創作主題,這是值得鼓勵的。優勝作品不論是以寫實表現,或是設計方式的表達都很成功,也是未來值得期待的精英。
 佛光緣美術館舉辦兒童美術徵件比賽,對於提升人文情操素養與倫理道德教育的省思,在現今教育方向的變革,速食文化,人際觀念淡化與功利自私的社會氛圍之下,振聾發聵。本人忝為美術館創作與美術教育的工作者,尤為感佩。謹此聊寄心聲以感謝辛勤工作的參與團隊,並祝福、恭賀優勝人員。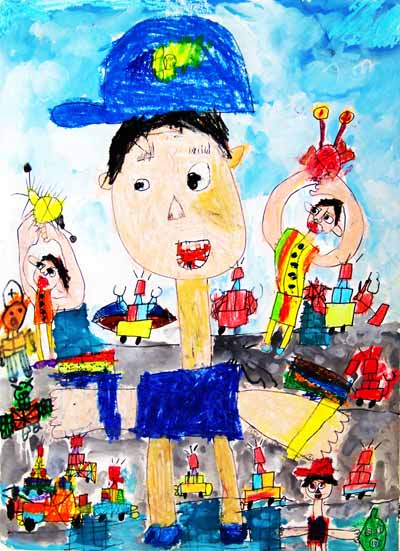 ■"Three Acts of Goodness" Drawing Competition
Executive Director, Central Taiwan Arts Association /
Chen, You Duan

 This is my first time to participate as a judge for the "Three Acts of Goodness" drawing competition which was organized by Fo Guang Yuan Art Gallery. There were a total of 6772 entries submitted from domestic and overseas regions; but only 15% of selected works received awards through both an initial and then final screening. I wrote this essay to express many thanks for the organizers' effort and enthusiasm, and to recall what I saw and heard in this competition that made a deep impression upon me.

 The participants are divided into groups based on their age. Although they come from various countries which have different cultural environments and national conditions, each one of them created their own artistic subject freely to express their personal visions of "Do Good Deeds, Say Good Words, Think Good Thoughts". This is a very rare opportunity where the winners were objectively selected from different regions. The descriptions of each division follow:
Ⅰ.The psychological development of children around age 5-6 years old has them just out from aimless drawing, which is mostly an emotional performance. Their art is expanding, circular, unplanned graphic composition in which they are drawing "what I think," not "what I see." In the process of evaluation, I also found that many works are portrayals of parent-child, or of parents and teachers working together. This shows signs of excessive attachment in their drawing, but the ultimate goal of learning the "Three Acts of Goodness" still had its effect. From a certain view of art education, the attachment is a distraction to the children's independent thinking, innocence and purity. Therefore the winners have an independent creation and the joy of childlike innocence.
Ⅱ.The children in grades 1-2 are still in a mode of emotional creation and evidence of logical development in their art is just beginning. Compared to children around 5-6 years old, their works display more specific drawing skills that express the theme, but have less margin space and fill with background color. The final award-winning works show independent creation with its own childlike imagination.
Ⅲ.The works of Grades 3-4 have expression of logical and visual observation. Some of them retain the emotional performance characteristic of younger participants, but the picture arrangements have been planned through the use of color and completion of the emphasized theme. These works have fewer pieces expressing the abstract themes of "Say Good Words," or "Think Good Thoughts", with most of the works specifically portraying "Do Good Deeds".
Ⅳ.The group of grades 5-7 has almost evolved out of perceptual performance art. The works are based on a design of rational thinking, realistic style, and concepts of poster design. The abstract theme of "Say Good Words, Think Good Thoughts" has been created successfully. The content of winning works was emphasized by the picture layout and application of color and an outstanding performance.
Ⅴ.The participants of grades 8-10 have become a small group experienced at art competitions. Not only the "great ambition but little talent" but also the developed creation has fallen. The fault of art education at grades 8-10 are caused by the impact of the entire educational curriculum and the time arrangement.
Ⅵ.
The art competitions of Taiwan rarely include works from overseas. These participants from different regions and environmental living conditions, were able to express their different ideas through painting. That is the value of the winning works; the inspiration from their life experiences which created the harmonious colors in their lively and pure painting.
 The standard of this competition has produced excellent quality. There is a very mature ability to depict the theme in color performance, and appropriate use of three-dimensional space to represent the theme of creation. That is an encouraged thought! The winning participants are the elite of the future.
 The Children's drawing competition was held by Fo Guang Yuan Art Gallery which intends to increase the inspiration of humanistic sentiments and ethics education. We need to speak out against educational reform, fast-food culture, estranged relationships and a selfish society. As an artist and educator, I am deeply grateful for all the hard work of people involved in this event. Congratulations to all the winners and I wish you all the best!
佛光山佛陀紀念館


Fo Guang Shan Buddha Memorial Center
展期:2016/9/10-12/4
時間:10:00-17:00免費參觀 (週一休館)
地點:本館二樓佛光藝廊
地址:高雄市大樹區統嶺里統嶺路1號
電話:+886-(7)-6561921分機4247

佛光緣美術館屏東館

Fo Guang Yuan Pingtung Art Gallery
展期:2017/3/25-5/21
時間:10:00-20:00免費參觀 (週一休館)
地點:佛光山屏東講堂三樓

館址:屏東市建華三街46號3樓
電話:+886-(8)-755-8003分機301

佛光緣美術館彰化館


Fo Guang Yuan Changhua Art Gallery
展期:2017/6/15-7/30
時間:10:00-18:00免費參觀 (週一休館)
地點:佛光山彰化福山寺一樓
地址:彰化市福山里福山街348號
電話:+886-(4)-7322571

國立國父紀念館


National Dr. Sun Yat-sen Memorial Hall
展期:2017/8/12-8/21
時間:9:00-18:00免費參觀 (週一休館)
地址:台北市信義區仁愛路4段505號
電話:+886-(2)-27588008分機546

佛光緣美術館香港館


Fo Guang Yuan Hong Kong Art Gallery
展期:2016/12/20-2017/1/20
時間:10:00-18:00費參觀 (週一休館)
地點:佛光山香港佛光道場
地址:香港九龍灣宏光道1號億京中心B座16樓
電話:+852-3110-900

佛光緣美術館馬尼拉館


Fo Guang Yuan Manila Art Gallery
展期:2017/6/1-6/30
時間:10:00-17:00免費參觀 (週一休館)
地點:菲律賓佛光山萬年寺
地址:656 Pablo Ocampo St,Malate, Manila, Philippine.
電話:+63-(2)-5599540

佛光緣美術館西來館


Fo Guang Yuan Hsi Lai Art Gallery
展期:2017/7/27-10/1
時間:10:00-17:00免費參觀 (週一休館)
地點:美國佛光山西來寺
地址:3456 Glenmark Drive, Hacienda Heights, CA 91745 U.S.A.
電話:+1-(626)-9619697
指導單位:佛光山寺
Advisory Organization:

Fo Guang Shan Monastery

主辦單位:財團法人佛光山文教基金會、佛光緣美術館總部
Organizers:

Fo Guang Shan Foundation for Buddhist Culture & Education, Fo Guang Yuan Art Gallery Headquarters

承辦單位:佛光緣美術館海內外各分館
Organizer:

Fo Guang Yuan Art Gallery Worldwide Galleries
協辦單位:
中華民國兒童美術教育學會、佛光山各別分院、人間福報、人間衛視
Co-organizers:

Association for Education through Art of the Republic of China, Fo Guang Shan Monastery Worldwide Branches, Merit Times, Beautiful Life Television